History of the School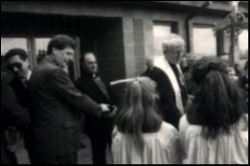 The Holy Faith sisters set up St. Brigid's Convent Girls National School. The order remained in the parish for 112 years. The local boys school – St. Patrick's Boys National School – where Fr. Maher's Place and St. Patrick's Close are now located.
The girls and boys schools were amalgamated in 1992 when the current school building was opened. The school was named after the patron saint of the parish – St. Beacon. Part of the site on which it was built was known as the 'Rae Field' – which was a play area for many local children in times past.
The expansive site was donated by John and Bridget Dalton of Garrandarragh. The picture on the top left shows Liam Aylward T.D. unveiling a plaque, to commemorate the Daltons generous donation, in 1992. This plaque is on display inside the main door of our school.
St. Beacon's National School, Mullinavat, Co. Kilkenny | Phone: 051 898 442