Physical Education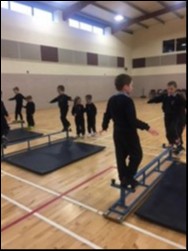 Our Rationale:
"At St. Beacon's, we believe that P.E. provides children with learning opportunities through the medium of movement and contributes to their overall development by helping them to lead full, active and healthy lives. The children are also helped to make informed decisions to make a healthy lifestyle."
There are six strands to the Physical Education curriculum. These are; (1) Games (2) Athletics (3) Gymnastics (4) Dance (5) Outdoor and Adventure Activities and (6) Aquatics. All children have access to five strands each year. The sixth strand, Aquatics, is implemented in St. Beacon's from 2nd Class to 5th Class. Children attend swimming lessons in the Apex Swimming Pool, New Ross. The swimming programme is divided to give each class eight lessons. In addition to this, Land PAWS 1 is taught as part of the SPHE curriculum to these classes in the last term of the year.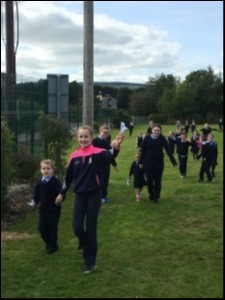 Outdoor and Adventure Education
The scheduled P.E. days for each class are as follows;
Junior Infants: Monday/ Wednesday
Senior Infants/1st : Wednesday
1st/2nd Class: Tuesday
3rd Class: Thursday
4th Class: Thursday
5th Class: Wednesday
6th Class: Friday
All pupils receive one hour of PE weekly and should ensure that tracksuits and runners are worn on their scheduled day. All pupils receive P.E. homework once weekly on the same day as their P.E. lesson.
Last year, the staff of St. Beacon's completed a self-evaluation so as to focus upon a P.E. strand for development. It was decided to develop the Outdoor and Adventure Activity Strand so as to make better use of the grounds around our school. We collaborated with Irish Heart to develop a Slí na Sláinte route (meaning 'Path to Health'). This involved measuring and mapping the school grounds to create four different walking tracks ranging in distance from 400m to 70m. The map is displayed clearly outside our school for all pupils to use.
On September 28th, we had the launch of our 'Slí na Sláinte' route with the entire school completing the 400m Perimeter Loop. From now on, at break times, pupils not participating in sport or games will be encouraged to 'Do Their Talking as They're Walking'!!!
Pupils completing their first lap of the 'Slí na Sláinte' walking route
St. Beacon's National School, Mullinavat, Co. Kilkenny | Phone: 051 898 442